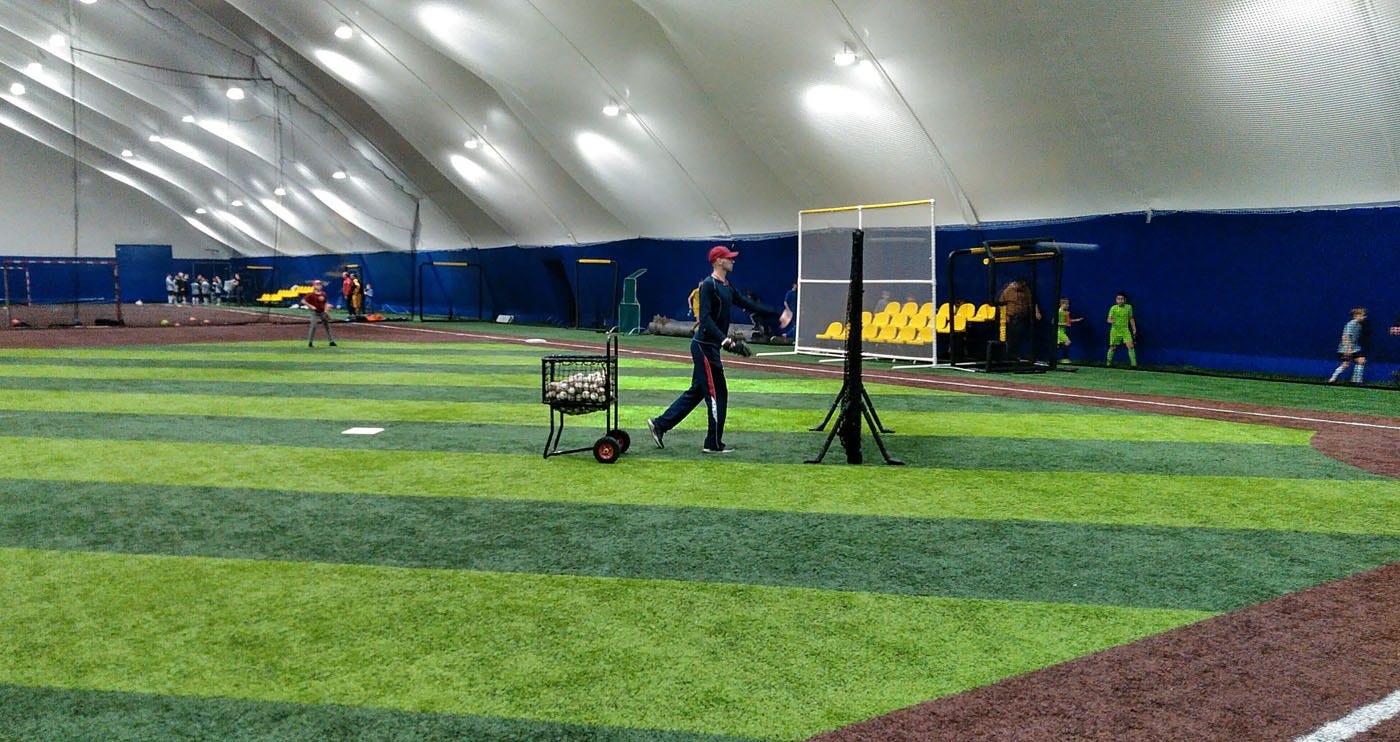 Company profile
Nagase Kenko Corporation
Headquarters
6-7 Sumida 1-Chome, Sumida-ku, Tokyo, Japan 131-0031


Establishment
May 10,1934
Officer's list
Board Chairman
Yasuhiko Nagase


President & CEO
Kumi Hoshi


Executive Vice President
Shigeki Hashimoto


Director
Shinya Okabe (lawyer)
Ikuo Taniguchi (Tax Accountant)
Yasushi Funatsu


Auditor
Katsunori Hoshi
Financial month
September
Business
Manufacture and sale of baseball ball , soft tennis ball , softball , other balls , sports floor mats
Office
■Head office
6-7 Sumida 1-Chome, Sumida-ku, Tokyo, Japan 131-0031
Tel: 03-3614-3502 Fax: 03-3614-0730
■Sales Branch
Osaka, Nagoya and Fukuoka
History
1934
Established Nagase Rubber Manufacturing Co. Ltd. in Sumida Ward, Tokyo.
1938
Under The 1st Corporate Development Law, all manufacturers producing the rubber baseball balls jointly established Japan Rubber Baseball Manufacturing Co.,Ltd.
1943
Under a second Corporate Development Law, Japan Rubber Baseball Manufacturer Co., Ltd. was dissolved and all factories were closed.
1945
World War II was over.
1946
The production of our rubber baseball ball started under authorization by Ministry of Health and newly established Nagase Rubber Industrial Co., Ltd.
1948
Started The 1st Nagase Kenko-Cup of Kanto (Tokyo-area) Soft Tennis Tournament (Presently, it called Kanto Open Soft Tennis Tournament.).
Established Osaka Branch Office.
1950
Japan Rubber Baseball Association ended to use old-design rubber ball as an Official ball and started to use new-design rubber ball. Our Kenko rubber ball with new dimples on surface was authorized to use as an official ball.
1951
Our agency system was established to enlarge the business. Contracted with first-class wholesalers and led to its nationwide sales network.
Started to produce and sell Softball ball (licensed by Japan Softball Association).
1953
Recruited new brand of our soft tennis ball (to be authorized by Soft Tennis Association) and born newly as a N-1 Tennis Ball brand.
1956
Started The 1st All Japan Women Invitation Soft Tennis Tournament. (Presently, called All Japan Women Invitation Soft Tennis Tournament.)
Started The 1st All Japan Indoor Soft Tennis Tournament. (Presently, called All Japan Indoor Soft Tennis Tournament.)
1965
Osaka Branch Office newly named to Osaka Sales Office.
1980
Started to produce and sell a Badminton Court Mat (authorized-Mat by Japan Badminton Association).
1981
Opened Rubber Baseball Reference Room in our company.
1982
Started to spread Rubber Baseball and Soft Tennis to overseas countries.
1984
Started to produce and sell both Tennis Court Mat specialized to Indoors and Floor Mat for Rhythmic Gymnastics.
1985
Established Fukuoka (Kyushu) Sale Office. (Presently, Kyushu Sales Office).
Our company newly named Nagase Kenko Corporation.
1988
Contracted with Mr. Stefan Edberg, Swedish professional tennis player, for the sales and the promotion of Keno Tennis Ball (hard ball authorized by Japan Tennis Association).
1991
Started to produce and sell Floor Mat for Table Tennis. (In 1992, it was used in Barcelona Olympic.)
1998
Received the Distinguished Service Award from World Baseball Federation by evaluating the contribution to Baseball spreading and development.
2000
Released brand new ball called Kenko World ball aiming at the internationalization of Rubber Baseball.
Brand of Soft Tennis ball was renamed from N-1 to Kenko.
2002
Established The 1st All Japan Junior Soft Tennis Kenko Cup Tournament.
2005
Established Nagoya Sales Office.
2010
Held the first 1st camp of Nagase Special Soft Tennis.
2013
Appointed Mr. Jiro Nagase as Chairman of the Board and Mr. Yasuhiko Nagase as President and Representative Director.
2015
Appointed Mr. Shosaku Yanagida as Managing Director.
2016
Appointed Mr. Shosaku Yanagida as President and Representative Director and Mr.Jiro Nagase as Honorary Chairman of the Board.
2021
Kumi Hoshi was appointed as the president and representative director and Yasuhiko Nagase was appointed as the chairman of the board effective immediately on the 1st Dec 2021.
Over 80 years ago, a Japanese merchant named Taikichi Nagase began manufacturing a rubber baseball that has become a Japanese tradition.

Combining a textured rubber surface with a hollow air center, "nankyu" baseballs are renowned in Japan for their safety and durability. More than 90 percent of Japanese children play with this safety baseball, and Nagase Kenko Corporation (NKC) is far and away the industry leader – holding a market share of more than 60%. In the eighty years it has been manufacturing this product, over 6 billion NKC balls have been sold – without a single serious injury.

Formally incorporated in 1936, NKC has now, under the leadership of President Jiro Nagase, developed into a global, multi-line sporting goods company. It has also become a worldwide leader in innovative research and the development of sports programs. In addition to its line of nankyu baseballs, NKC markets a wide range of sporting good products and services through its Team Sports and Tennis, Sports Flooring and Gymnastics Equipment and International Sales and Marketing divisions.

Headquartered in Tokyo, Japan, the Nagase Kenko Corporation presently employs a staff of over 250 individuals around the world. It maintains four Japanese manufacturing facilities and three regional sales offices in Osaka, Fukuoka and Hokkaido. In addition, it maintains an extensive network of agents, distributors and representatives who help to manage its sales and marketing and promotional activities around the world.
History of Rubber Baseball
Rubber Baseball is a game originated in Japan and its ball was made of soft material such as rubber. We have its world competitions, but, the overseas penetration rate and popularity of this rubber baseball are very low.

Baseball in Japan was landed from the United States in the beginning of the Meiji era, spreading among young people throughout the country, became a flower-shaped sport triggered by the national secondary school championship baseball tournament held in 1915 (Taisho 4th year).

At this earlier time, the children who did not use hard balls (Leather balls) enjoyed baseball with tennis balls and the like. But, these balls have a disadvantage to the children because of these light weights, no speed and insufficient durability.

So, enable the children to enjoy baseball safely and easily, the rubber ball used for baseball was developed. In 1919 (Taisho 8th year), a rubber baseball tournament was held at the elementary school (after post-war, it became a junior high school) in Kyoto. This is the start of the rubber baseball. In 1919 (Taisho 8th year), the rubber ball was firstly sold in the shop and the population of juvenile rubber baseball was increased. In 1920 (Taisho 9th years), the "Dainippon Shonen Baseball Association" was established in Kobe and it led to nationwide tournament to be held.

Afterwards, in 1925 (Taisho 14th year), Mr. Haruno Yokoi established the same name organization in Tokyo. In 1929(Showa 4th year), the "Japan Nanshiki (=Rubber Ball) Baseball Association" was established for the general public and its rubber baseball settled as a citizen sports.

Although it was temporarily stopped during World War II, the All Japan Rubber Baseball Federation was established in 1946 (Showa 21st year) and the "All Japan Rubber Baseball Tournament" was held as a part of the National Sports Festival that began this year and it has also become one of main events of this National Sports Festival.

In addition, in 1970 (Showa 45th year), for the purpose of spreading juvenile baseball, the full-scale in ages tournaments were also started from the elementary school ages to the "juvenile" of the junior high school ages.

After that, the rubber baseball developed steadily and now the number of teams participating in the All Japan Rubber Baseball Federation has increased with the players' population of about 1.2 million people, including 36,845 teams for the social work, 20,284 teams for juvenile, teams for the university association, for vocational school, and for the 60th anniversary association.